It's time to Own Your Awesome!
12 talented speakers offer 5+ hours of video content to ignite and empower you to Own Your Awesome!
During checkout, you will be asked to first create a free login. Then, you'll be asked to click the PayPal button. After you do that, you will be given options to pay via debit/credit card or PayPal. Join us inside the virtual summit!
How to clarify your goals, identify your strengths and overcome your challenges

For empaths: How to identify, navigate and release energies that aren't yours

How to use financial modeling to forecast and grow your holistic business

How to identify beliefs that are sabotaging your life and shift them into new ones

How to create an inspired, blissful robust life of abundance and joy based on your desires and interests

8 steps to strengthen your intuition, including how intuition works

How to use manifestation practices to breeze through tough times and create great experiences

How to stay present and grateful everyday to find the gift in your challenges

How to recognize your awesome and allow yourself to own it without the need to be or do anything else... and much more!
Is This Even Mine? - Crystal Camp-Kravtsov

Changing Your Limiting Beliefs into Powerful New Thoughts - Heather Driscoll

If You Don't Ask, the Answer is No - Shari Dworkin-Smith

Remember Who You Are - Beth Eiglarsh

Boost Your Intuition with 8 Easy Steps - Brandi Khan

Grow Your Coaching Business Using Excel - Niki Koubourlis

3 Habits to Develop Your Authentic Self - Carolyn Mackey

Everyday Reverence: Gratitude, Laughter, Divine - Paula Meyer

Make Your Life and Health a Priority - Kevin Pedrey

How You Can Use My Cancer To Thrive In Life - Susan Rae

World Traveling Tips - GG Rush

Honor the Landscape of Your Life - Janet Zavala

More from the Own Your Awesome Summit Speakers

Own Your Awesome T-Shirts & Accessories

Summits, Courses and More

Be an Author in Our Next Collaboration Book

Be a Speaker in Our Next Virtual Summit
About this Virtual Summit
$47.00

20 lessons

6 hours of video content

12 speakers

Lifetime Access
Crystal Camp-Kravtsov
Crystal is a gifted psychic healer holding a background in quantum energy healing, reiki, mediumship, and an ever-growing list of more to accomplish. She uses these tools not only to heal herself but family, friends and clients. Using intuitive psychic capabilities to work with lost loved ones bringing them healing thru a session so they can then be crossed over. With a love for self-healing the body, mind, and soul she is currently expanding her knowledge in aromatherapy essential oils, and herbalism while creating essential oil blends, infused soaps, and balms for her family, friends, and clients. Nature keeps her grounded while exploring new things in the yard with her three children. Together they have started a little mini farm with 15 chickens, and a cute garden area to watch things grow from seeds. Not only has Crystal taught herself a few things in farming and gardening but she also passes this knowledge along to her children by teaching them ways to make and store food from farming and gardening. Crystal's favorite self-care is traveling with her family to explore new places to hike, forest bathe, check out caves, collect rocks/crystals, and become mesmerized by gorgeous waterfalls. Website: thegiftedpsychichealer.com Email: Crystal@thegiftedpsychichealer.com Facebook: The Gifted Psychic Healer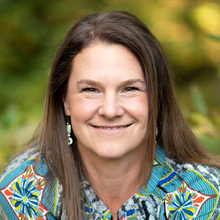 Heather Driscoll
Heather Driscoll is a certified coach and life alignment expert. Part cheerleader, part radical accountability coach and part wise intuitive guide, she is passionate about empowering people to discover what matters most to them and live in powerful alignment with it. Heather is the developer of On Purpose, a proven, repeatable life alignment system. Through live workshops, one-on-one coaching and online education, she teaches people to break through barriers, heal unresolved hurts, gain clarity, build supportive habits and tap their personal power so their life moves in the direction they want it to, with ease. Heather believes in the power of creative visualization and has seen her life unfold in exciting ways as a result. She teaches mindfulness in her coaching practice. She is big on showing people how to overcome fear and anxiety in all areas of life. Heather is a serial entrepreneur. She currently owns and operates 3 successful businesses with her husband and best friend, Dan. They live in Connecticut and together they have three children, Megan, Riley, Gavin and a beautiful Granddaughter, Stella. Heather can be reached at driscoll.h@gmail.com 860-634-2196 www.lifealignmentexpert.com
Shari Dworkin-Smith
Shari Dworkin-Smith is a highly regarded evidence based psychic medium, teacher, card reader and author. She connects with those in the spirit world, to bring forward information, messages, and proof that the soul continues, and that our loved ones are always with us. Her compassionate straightforward style helps clients move through grief and assists them in gaining clarity about current and future life situations. Shari offers mediumship sessions, intuitive psychic readings, Oracle, Angel or Tarot Card readings, guided meditations, past life regressions and Akashic Records sessions for reading and healing. She is the creator of the Becoming An Empowered Empath Online Learning Journey and offers various online and in-person developmental classes including Expanding Psychic Awareness and Opening To Your Mediumship. Additionally, Shari is featured in the upcoming book, Own Your Awesome, and has also been an Independent Sales Director with Mary Kay Cosmetics for nearly 25 years. She lives in Orlando with her amazing husband, two adult sons, three dogs and two cats, all of whom are also amazing. Learn more about Shari on her website: sharidworkinsmith.com Follow her Blog on Medium: sharidworkinsmith.medium.com Find her everywhere else: zez.am/shari_dworkin_smith_psychicmedium
Beth Eiglarsh
Beth Eiglarsh, a self-proclaimed perpetual student, was born with a gift of compassion and sensitivity. After years of success in the advertising industry, she founded The Julia Taylor Collection in 2003, lovingly named after her daughter, specializing in hand-crystallized upscale gifts. Her work was featured all over the US and Caribbean and was included in the Oscar and Grammy celebrity gift baskets. A global partnership with Bacardi placed her VIP gifts in Dubai, Abu Dhabi, France, Norway, Poland, Australia, Thailand, and the UK. In 2009, Beth was drowning in workaholism and operating from a place of chaos. After hitting her rock bottom, followed by intense introspective work, Beth realigned with her essence and tapped into her purpose. Today she is a Certified NLP Life Coach; a Certified Spiritual Healer; an Advanced Practitioner Usui, Kundalini, and Lightarian Reiki Master; and a Holographic Memory Resolution trauma therapist. Her motivation is simply to help people feel better. Her greatest passion comes from empowering others to see the world, themselves, and their story in a more positive light via the mind, body, and spirit. She's a master perspective shifter who facilitates awareness, healing, and permission to be one's true authentic self. Beth draws on her strengths as an empath and intuitive to offer guidance and to help her clients unfold and expand into the very best version of themselves. She adores her husband, three children, and precious Goldendoodles; Angel and Peace. An "International Best-Selling Author", Beth penned Beth's Case Scenario and contributed to Enduring Wisdom, Whispers From The Heart, and Own Your Awesome, all available on Amazon. She currently offers one-on-one sessions, workshops, A.R.M.S. training courses, and Mind, Body, Spirit retreats. Join Beth's community at www.SpeakToBeth.com Contact: Beth@SpeakToBeth.com www.Facebook.com/SpeakToBeth and www.Instagram.com/SpeakToBeth.
Niki Koubourlis
Niki Koubourlis is a Finance Executive at Colliers International, a global Commercial Real Estate services company, as well as adjunct faculty at Washington State University, where she teaches a course on Real Estate Finance and Investments to college seniors. In addition to a successful corporate career, Niki spent 6 years as an entrepreneur where she founded Bold Betties, a women's adventure community that reached 40 cities and 60,000 women. Her expertise is particularly strong in strategy, valuation, and financial modeling. Originally from Pullman, WA, Niki has worked on 5 continents and lived on 3. Niki holds an MBA from The University of Chicago's Booth School of Business and a BA from Washington State University.
Brandi Khan
Brandi Khan is a certified Counseling Astrologer, Intuitive Medium, and Arcturian healer. Brandi has been a featured guest on Hay House radio with one of her mentors, James Van Praagh. She is also a contributing author of the books When Angels Speak and The Last Breath. Brandi is also a Level 10 practitioner in the healing modality known as Arcturian healing. In addition, Brandi is a full-time homeschooling mother to her four children. She lives in Lake Jackson, Texas with her husband, children, and two dogs. To learn more, please visit: www.BrandiKhan.com.
Carolyn Mackey
Carolyn Mackey is a New Thought Teacher and Certified Hypnotherapist based in Denver, Colorado. She values simplicity, sincerity, and playfulness. She has been helping clients have more good days since 2017 when she opened a Reiki healing practice, fulfilling a life-long dream of running a business that helps people. After earning a certification in Clinical Hypnotherapy in 2021 her toolbelt was truly complete. When Carolyn is not supporting clients, she is enthusiastically sharing and teaching A Course In Miracles or having fun with her family and friends. All classes are hosted online and posted to YouTube weekly. To learn more about Carolyn or her services, go to besthypnotherapydenver.com.
Paula Meyer
After becoming a widow at 54, Paula Meyer left her job and began a year of travel to heal her heart. As her travel ended, the Covid-19 pandemic began. The strategies for navigating the grief of her husband's death from throat cancer, also helped with the grief from the pandemic and social unrest. Losing her freedom and lifestyle, she was thrown into the unknown just as her new business began. Her new book, Great Loss, Greater Love: The Art & Heart of Navigating Grief, chronicles her year of travel, and is a #1 International Bestseller on Amazon. Paula has 30+ years' experience as an event planner and contracting specialist, with 12 years in author/speaker management. She has organized and managed 151 workshops around the world. Her company, GP Eventworx, specializes in event production for speaker/teacher workshops, as well as grief retreats for women. She is a Certified Grief Educator through David Kessler's program. She has traveled to 20 countries, some multiple times, and 42 US States. Her goal is to visit 30 countries and all 56 US States and territories by the end of 2025. Learn more at www.paulameyer.com.
Kevin Pedrey
Kevin is a licensed Massage Therapist, Personal Trainer, and Health and Wellness Coach. Throughout his career, he founded a series of businesses in health and wellness, including fitness, massage, and coaching, focusing on health, wellness, and pain management. Kevin has extensive facilitation and coaching training and specializes in pain management and wellness coaching. He is certified to teach Tai Chi and has practiced mindfulness and meditation for over 20 years. kevinpedrey.com
Susan Rae
Susan Rae is a Life Coach, Healer, and Spiritual Leader. She is a Sacred Depths Practitioner and proponent of Dialectical Behavior Therapy, with a university education in Organizational Development and Psychology. Following a thirty-year corporate career, earning the title of Vice President of Human Resources at one of the largest hospices in the United States, Susan left the corporate world to pursue her calling to help others on a deeper, more personal level. Thriving after life-transforming experiences: incest, addiction, divorce, and late-stage cancer, Susan is relatable, empathetic, and fierce in her support of her clients. Incorporating profound spiritual principles and manifestation practices, Susan encourages discovery and healing for those ready to leave the past behind and embrace the happiness, freedom, and joy that is their birthright. She is passionate about encouraging individuals to learn to love unconditionally, creating Holy relationships. She hosts support groups, retreats, workshops, and one-to-one sessions and has fostered a community of like-minded people from all over the world that connect in virtual events nearly every day. You may join Susan's Facebook Group, The Spiritual Path: From Stuck To Manifesting Your Abundant Life, by visiting www.facebook.com/groups/spiritualmanifesting, or you may contact her directly at susanraelifecoach@gmail.com or 602-748-0444.
GG Rush
GG Rush is an author, Certified Life Coach, Clinical Hypnotherapist and Clutter Clearing Coach. She is a certified Reiki Master and has studied Aromatherapy, Chakra Balancing, Toxic Emotions and the ancient art of Pulse Reading. She has traveled the world solo and will continue her journey to see the world and find herself. GG (aka Gail Rush Gould) resides in Cary, North Carolina, with her cat Bella. Author website: gg-rush.com Coaching website: SacredSparrowSpiritual.com
Janet Zavala
Janet Zavala is a writer, coach, and nature enthusiast, passionate about making proven self-empowerment techniques accessible to a greater number of people. Her unique style incorporates traditional coaching techniques with the healing power of nature to help clients dig deeper into all aspects of their lives. She is the author of the 2023 book The Nature of Transformation. Providing a combination of life coaching, meditation, and breathwork techniques, inspired by the natural world, to heal your body, mind, and spirit. Janet holds a bachelor's degree, coaching certification, and is a certified teacher of breathwork and meditation. As a thirty-year veteran of corporate America, she led her department's women's empowerment group, providing thought leadership and strategic guidance in the development of more than thirty events delivered to over 700 employees, focused on personal and professional development. Janet maintains a blog that can be found on JanetZavalaCoaching.com and you can find her on all social media channels.
Todd Schaefer
Todd Schaefer is the creator and host of AYW Virtual Summits. He has worked in the personal development field for 15 years, coaching over 2,000 clients, 1-on-1. He has written and published 4 books: The Acceptance Guidebook, Butts in Seats, Selling Emotionally Transformative Services and its Companion Notebook. He is the Chief of Operations and Editor-in-Chief for As You Wish Publishing, creating systems that help authors succeed in publishing their books. Todd is also a personal development coach as well as a business coach who guides holistic practitioners to reach their full potential. He co-owns two businesses with Kyra Schaefer: www.asyouwishpublishing.com and www.hypnotherapyschool.net. Contact Todd at connect@asyouwishpublishing.com, or book a session with Todd at https://calendly.com/hypnoschool/30-minute-intake-virtual.